Photographs of some Poles recognized by Yad Vashem
as "Righteous among Nations"
Lt. Colonel Tadeusz Bednarczyk in his home in Warsaw
---
Stefania Dambrowski
---
| | |
| --- | --- |
| | Dr. Janusz Durko |
---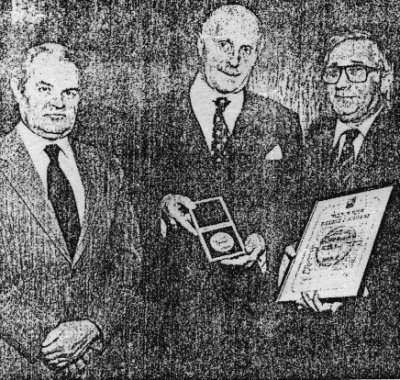 Edward Kemnitz, centre, is presented with medal and plaque from Yad Vashem for saving Jews during Holocaust by Israeli consul-general Yakov Aviad. At left is Aba Beer, chairman of CJC's Holocaust Remembrance Commitee. The Canadian Jewish News, Thursday, December 29, 1983
---
Kielan family
Franciszek and Maria, wife
Krystyna and Zofia, daughters
---
Leonora Kowalska, born Nawarkiewicz; Krystyna Kowalska-Rzepka, daughter
---
Halina Kopcinski-Wyganowski, born Tolloczko
---
Irena and Jerzy Krepec
---
---
Prof. Jerzy Radwanek with his wife
---
From left to right: Aba Beer - Chairman of CJC's Holocaust Remembrance Commitee, Barbara Szymanski-Makuch, Stanislaw Makuch, Zwi Caspi - Israeli Consul.
---
Jerzy Piotr Sliwczynski
---
Alina Tyszka, born Krepec and Jadwiga Olizar, born Jankowska.
---
Elzbieta Wyganowski,
born Targowski.
---
Aleksandra Zaryn - born Jankowski, sister of Jadwiga Olizar
---
Stefan, Stefania, Wladyslaw, Helena and Jadwiga Zbik
Wladyslaw Alfred Zbik (first from right) in Yad Vashem